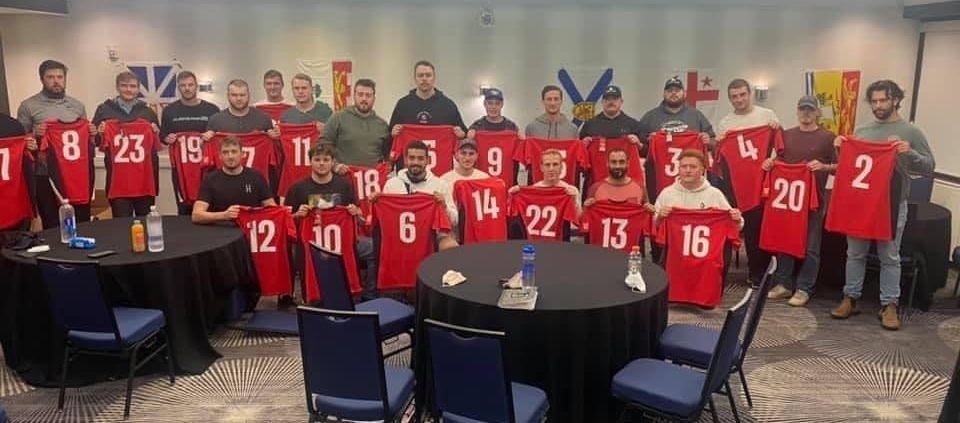 Atlantic Selects To Face New England Freejacks In Boston
Atlantic Selects to Face New England Freejacks in Boston
The Atlantic Selects, Atlantic Canada's renewed high performance Men's Rugby team, announced today their 2nd ever match.   The team was founded in the fall of 2021 to help rebuild high performance Rugby in Atlantic Canada, and travelled to Toronto in October to play the Toronto Arrows.
On April 30, 2022, the team will face the development team of Major League Rugby's the New England Freejacks.   The game will take place at the Freejacks' home Veterans Memorial Stadium in Quincy, Massachusetts, with kickoff time yet to be announced.
The team will gather for a training camp in Halifax on April 26 and 27, bringing together players from all four Atlantic Provinces including players currently playing on the West Coast and several other locations.   Final selections will be made based on prior performance, performance in the first weekend of the Eastern Canadian Super League, and at the camp.
"We are excited to restore the proud tradition of an Atlantic High Performance Rugby team and to help restore the pathway for top players from our region to rise from Club Rugby to the professional and National team ranks,"  said Selects General Manager Dr. John Gillis.
Coach Jamie Cudmore added, "Since the end of the Canadian Rugby Championship a few years ago, there has been a real lack of top quality Canadian competition to help our players in all regions get better and take the next step they need to excel.   This effort, coupled with the Arrows Academy and efforts underway in Western Canada will hopefully help restore a regular top level competition in Canada and with our neighbours to the South."
The Selects are also slated to face the Arrows again, this time in Halifax at the end of May, with more details to come soon.
There are a limited number of seats on the bus available to friends and family of the team for the trip.   The bus departs Halifax on April 28 at 10 am and returns late on Sunday May 1st.  The bus will stop as required in New Brunswick to pick-up and drop players and fellow travelers.  Cost for non-players is $519 including round trip transportation, 3 nights double occupancy in a hotel, and 3 breakfasts.   There is a discount for triple, and possibly quad occupancy.
If interested in sponsoring, supporting or joining us, or for general info or questions, please reach out to Team Manager Sarah O'Connor at oconnor.e.sarah@gmail.com, or GM John Gillis at drgillis@24care.ca.
Selects Long List
Forwards
Alex Forrest – Charlottetown RFC- Captain
Phil Lanthier- Charlottetown RFC
Tyler Matchem- Pictou County RFC/Pacific Pride
Edward Mahar- Moncton RFC
Mike McEachern- Halifax RFC
Sean Doyle- Charlottetown RFC
Jordan Power- Dogs RFC
Ethan McCarthy- TARS RFC
Jordon Montgomery- Charlottetown RFC/ Castaway Wanderers
Isaac Kelly- UBC
Liam Carter- Charlottetown RFC
Seif Sanad- TARS RFC
Sheldon Cudmore- Charlottetown RFC
Nigel Bannister- TARS RFC
Pat Davis- Charlottetown RFC
Backs
Tony Pomeroy-  Baymen RFC
Brandon Power- Eastern Shore RFC/ TARS RFC
Johnny Cullen- Loyalists RFC/ Castaway Wanderers
Elliott Ryan-  Ampo Ordizia (Spain)/ TARS RFC
Campbell Clarke- Swilers RFC/ McGill
Barnaby Dunscombe- TARS RFC
Lucas Shortall-  Swilers RFC
Tom Jarman- TARS RFC
Sam Newhook- Baymen RFC
Adam Anshan- TARS RFC
JS Cook- Swiler's RFC
Jesse Mckay- Moncton RFC
Keith Graham- TARS RFC/ James Bay
James Mitchell- Loyalists RFC/ Castaway Wanderers
Dexten Fox- Loyalists RFC
Cameron Pope- Halifax TARS RFC
Team Staff
Coach- Jamie Cudmore
Coach- David Jackson
Coach- Curtis Lauzon
Coach- Morgan Lovell
Coach- Jack Hanratty
Manager- Sarah O'Connor
High Performance Advisor- Dr. Brendan Parfrey
GM- Dr. John Gillis
https://rugbyns.ns.ca/wp-content/uploads/2022/12/atlantic_selects.jpeg
720
960
alex_andrews
https://rugbyns.ns.ca/wp-content/uploads/2022/11/Logo.png
alex_andrews
2022-03-31 05:56:14
2022-12-06 05:59:09
Atlantic Selects To Face New England Freejacks In Boston